Overview:
The AI-based Overdue Invoice Reminder Email Generator is an innovative feature in the CaFE app designed to simplify and optimize the process of sending reminder emails for overdue invoices. The feature leverages AI technology to automatically generate personalized draft reminder emails based on invoice information and user preferences. Additionally, it offers tips for collecting overdue invoices efficiently.
How to access:
There are two ways of accessing this function.
The first is to select 'Chase an overdue invoice' from the Key Actions menu at the top right of the summary screen. In this case, the Email content is generated as a template, as it does not have specific invoice information.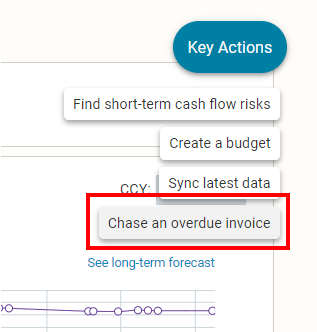 The second way to access this is from the Overdue list screen by clicking on the Email icon on the far right. This Email icon is only visible for cash-in transactions.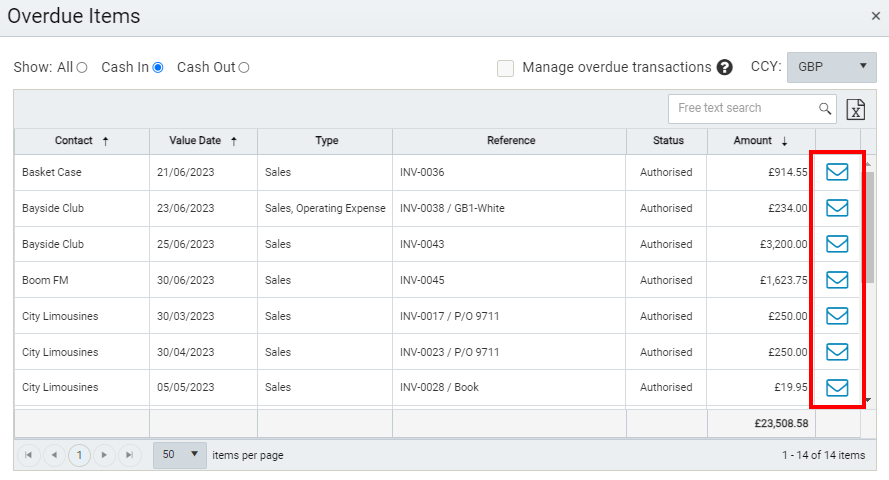 Feature Options:
The Invoice Reminder Email Generator is packed with customisable options designed to finetune your communication effortlessly. From adjusting tone to including essential details, these options ensure that your reminder emails hit the mark.
Let's explore each option:
1. Email Tone:
Choose the tone of the email.
Options: Friendly, Normal, Serious.
Usage: This sets the overall tone of the email to be in alignment with how you wish to communicate with the customer.
2. Short Version:
Opt for a shorter version of the email.
Usage: Check this option if you prefer to send a concise and to-the-point email.
3. Reminder Sent Date:
Specify the date and time of a previously sent reminder.
Usage: If you have previously sent a reminder email, include this information to reference the earlier communication.
4. Negotiation Terms:
Include any negotiated terms and conditions for invoice collection.
Usage: If you have specific agreed-upon terms with the client regarding the overdue invoice, include this information in the email.
5. Use CaFE Data for Email Generation:
Opt to use data from CaFE for a more personalized email draft.
Usage: Select this option to send the following data to Azure OpenAI service:

Your company name
Your customer's information: Company name, Contact person name
Your invoice information: Reference text, Due date, Amount due and Currency
Reminder sent date and negotiation terms will be sent regardless of the selection of this option.

Note: Any data sent to Azure OpenAI Service will not be used to train, retrain, or improve their models. Please also see Azure OpenAI Service Data Privacy.
Outputs:
With CaFE's Invoice Reminder Email Generator, you not only get tailor-made reminder emails but also invaluable tips for a strategic approach. The feature ensures that your emails are effective and that your collection process is efficient and well-informed.
Here are the key outputs you can expect:
1. Email Subject and Content:
The generator provides a suggested email subject and content based on the selected options and invoice data.
Usage: Users can copy the subject and content by clicking the copy icon located at the right-hand side of each field. Additionally, there's an option to directly open the client email software with the generated content along with the customer email address filled in.
2. Tips for Collecting Overdue Invoices Efficiently:
Alongside the email draft, the feature provides tips and best practices for collecting overdue invoices.
Usage: Read and implement these tips to enhance your invoice collection process.
By utilizing this feature, users can streamline communication with customers regarding overdue invoices, ensure professionalism, and implement effective strategies for prompt collections.