Release Note for the release 09.07.2019
New Features
- Mobile CaFE [Beta]
The mobile interface is now available when you log into CaFE on your mobile phone.
The good news is that you do not need to install a separated app on your mobile, you can simply access CaFE on your mobile web browser.
It tells you your current and future cash summary in an efficient way so that you can see your current position and any future risks quickly.
In addition to that, CaFE can now show your credit card forecasts and alert you when the credit limit is reached. (Credit Limit and Payment Day settings are required for this feature)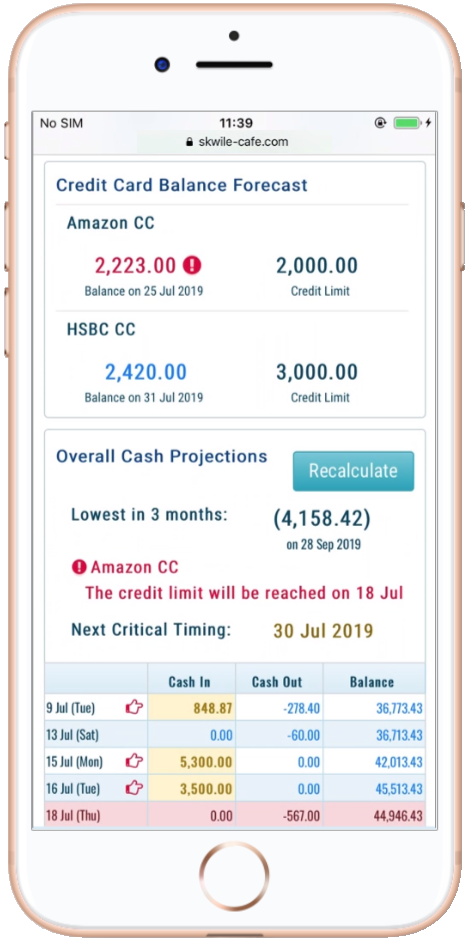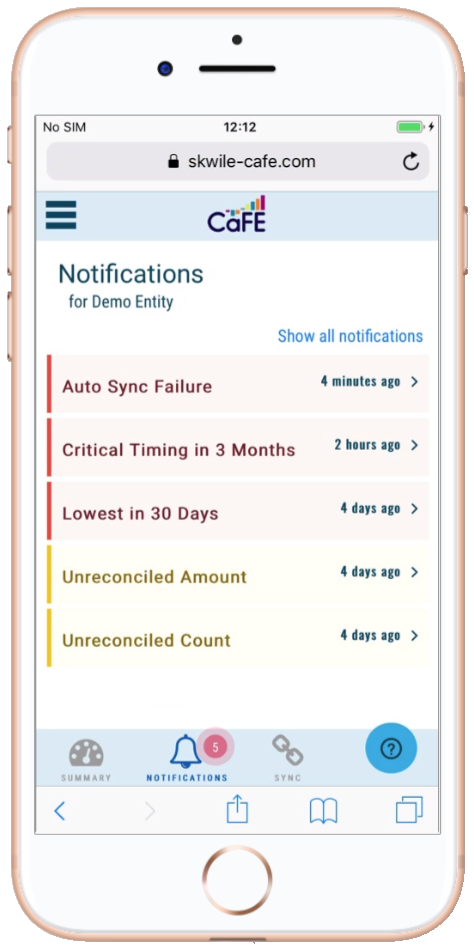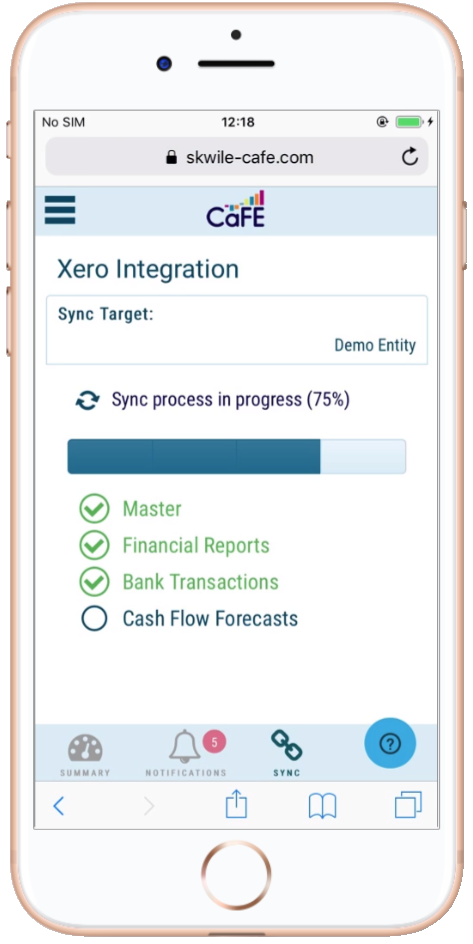 There are also some other features which you may want to use. 
For accountants and bookkeepers, the simple dashboard is available to see your clients' status.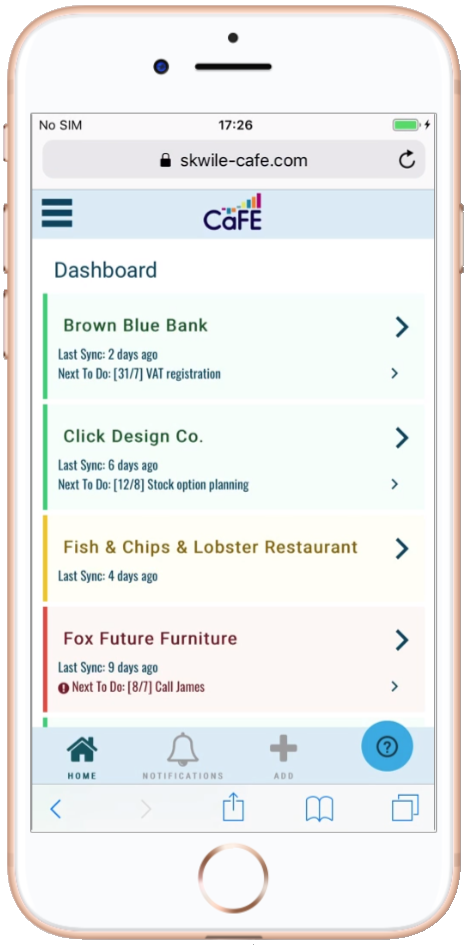 Mobile CaFE is still a beta version, so please share your experience with us. Any feedback will be more than welcome!
(* Please click this button on your mobile web browser in order to see Mobile CaFE) 
- Notification Centre
Previously CaFE just sent out notification emails and there was no way to see the notifications except for in your email box. You can now review active notifications in CaFE whenever you would like to.  
In addition, you will be notified when you log into CaFE if there are any unread notifications so that you will not miss them any longer.


The good news is that this feature is also available on Mobile CaFE so you can quickly check the notifications on your mobile phone too.
Improvements & Changes
[General]
- Payment Day setting for credit cards
You can now specify the payment day of each credit card account on the Bank Accounts page.
Currently, this setting affects only Mobile CaFE. Based on this setting, CaFE will decide the closing date for forecast balance to be shown.
(Please see here for more details)
- Minor text and styling improvements
[Financial Plan (Xero users only)]
- Integration with cash projections and critical timing report
Previously there was no way to monitor your financial plan after creating. You can now track your plan in your cash projections and also the critical timing report.
When your plan is set to monitor, CaFE will automatically create cash flows based on the plan and the planned cash flows will be included in your cash flow forecasts. Once any invoices or bills are issued, the cash flows will be offset by them.
You can select which record types should be monitored and when it should be paid in/out each month. Those can be managed anytime so that you can tune up how you monitor your plan in an efficient way.
Please see here for more details.
- Direct access to the primary plan from the menu
Previously you needed to select your main plan from the list every time. You now will be navigated to the main plan directly from the menu. If you do not have any authorised plan yet, you will be navigated to the last access plan.

Bug Fixes
Update Date/By of financial plans are not shown correctly
Connect to FreeAgent button does not look like a button
A credit card is wrongly selected as the main bank account when the existing main bank account is deleted
Updating AutoSync setting in the Entity Profile does not update the notification setting for AutoSync
A blank line item will be shown in scheduled cash flow in the Critical Timing report