Release Note for the release 07.04.2022
As spring arrives, we're pleased to say that so do our latest updates!
This latest release introduces several improvements which are designed to make managing cash flow easier for everyone.
What's updated?
Page navigation improvements
The main menu has been restructured as below.

Summary:
This is the home page of your company. You can see the company's overall information and drill down into the details quickly from there.
Budget:
The Budget Planner can now be accessed here. First things first, create a budget to improve your cash flow forecasts.
Forecast:
The Cash Short Predictor can now be accessed here. The detailed/long term cash flow forecasts can be accessed from the Cash Short Predictor or a link on the Summary page.
Reports:
The financial reports and ratios can be seen here.
Settings (the gear icon):
Any settings related to the currently selected entity can be accessed here. Please note that the Integration menu has been removed and the Sync page can now be accessed from the Settings icon.
In addition, you can now easily see your action alerts by clicking the bell icon on the right-hand side of the header menu.
You can also access various help resources from the question icon.
Please let us know your feedback about the new menu here. Your feedback is highly appreciated!
Fixed Asset management
Fixed assets can now be managed in a Quick cash flow plan and Basic budget.
Currently, only lump-sum payment is supported but we'll add more payment types later.
Please see here for more details about fixed asset management.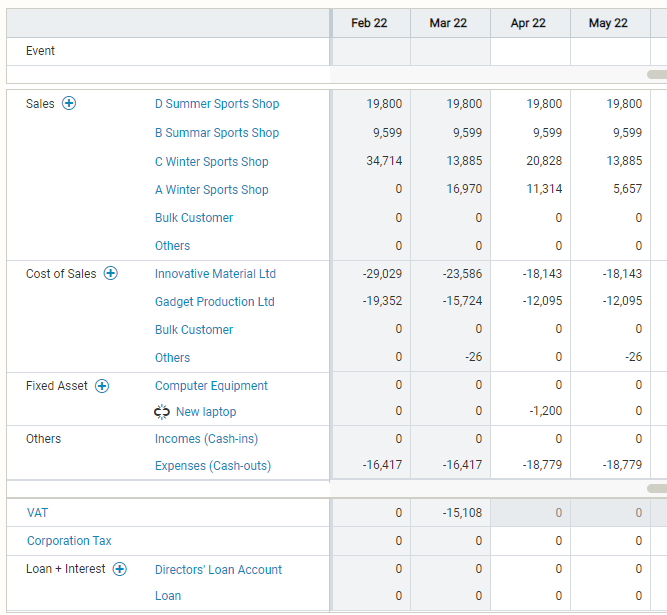 Internal account management for loans/fixed assets
New accounts for a loan/fixed asset can be created for budget simulation. It's like creating new contacts in Sales and Cost of Sales items. They won't affect anything in your profit and loss and balance sheet but your budget and cash flow forecast in CaFE.
These accounts could be very useful, especially when simulating various scenarios in your budget before making your decision such as when purchasing new office equipment or borrowing money from a bank.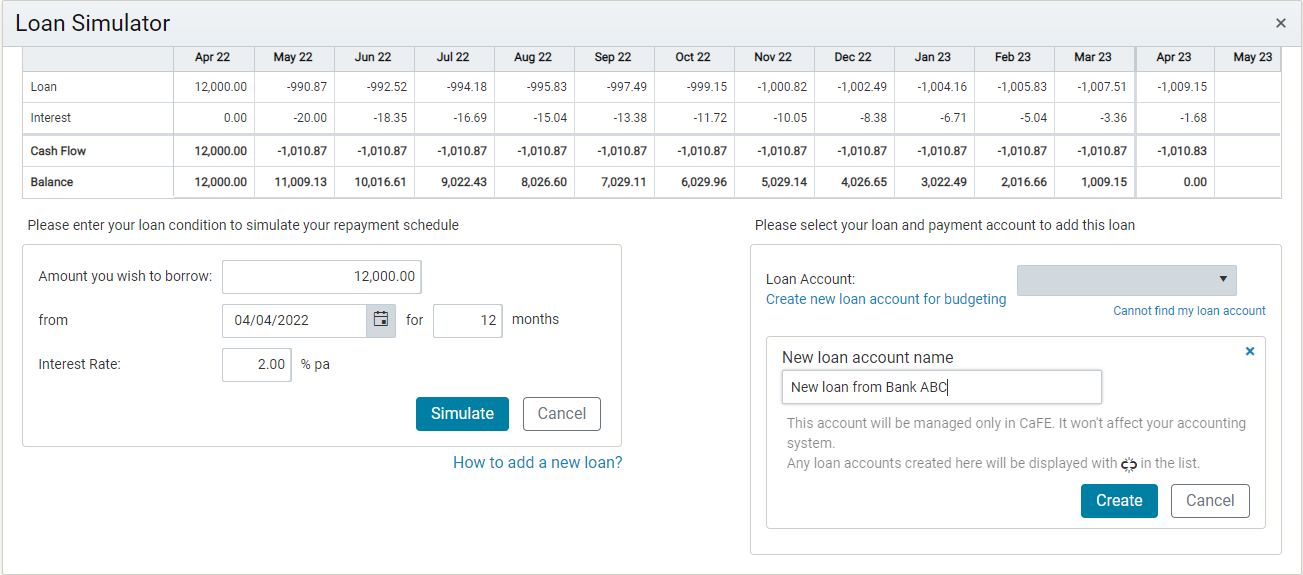 Please see the following articles for more details.
Change of wording
We've changed the following wordings.
[General] Record Type >> Account
[Full Budget] Cash Flow Setting >> Business Rule
Other changes
The sync process now automatically starts right after adding a new entity
Styling improvements in charts in the Budget Planner
Bug fixes and minor improvements
Performance enhancements